Hunan TEDA Hydraulic Co., Ltd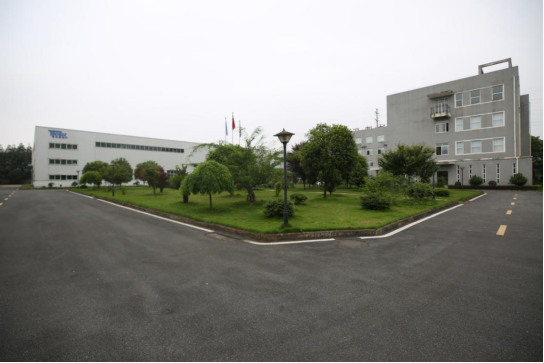 Hunan TEDA Hydraulic Co., Ltd. is a national high-tech enterprise and a small giant unit in Hunan Province. It has been rated as a provincial and municipal "contract abiding and credit respecting" unit for many years. The company has independent research and development, advanced production technology, perfect detection system and scientific management system. With export qualification, the products are exported to the United States, Slovakia, Vietnam and other countries.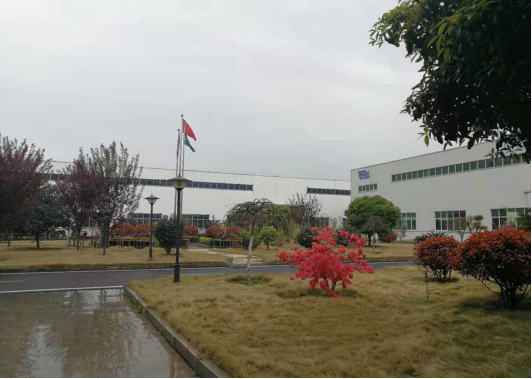 A corner of the factory
Core products: hydraulic cylinder series products, hydraulic system series products, domestic waste collection and transfer transport series products.
We uphold the enterprise spirit of "professional casting brand, reputation for the future", adhere to the management principle of "people-oriented", realize the fast and efficient support and service for customers, and are willing to work together with the society to create a better tomorrow!
TEDA hydraulic is committed to the development and production of environmental sanitation equipment and hydraulic products
1、 Landscape garbage sorting station
Landscape garbage collection station is a high-tech domestic garbage treatment equipment independently developed by our company's R & D team through technical innovation and advanced hydraulic technology. Landscape garbage collection station takes up less ground space, which not only saves cleaning cost, but also integrates high technology, high efficiency, simple operation, high safety factor and universal cleaning vehicles. The use of underground settings, the use of closed collection, a good solution to the city's visual pollution, to prevent the cross flow of sewage, mosquito breeding and other phenomena.
2、 Landscape intelligent integrated waste compression station
The transfer station is equipped with "TEDA" mobile garbage compression box, which is simple and efficient, covers a small area, and has beautiful layout. It adopts convenient docking standard garbage can, and the feeder can automatically lift and flip the garbage to complete the garbage dumping, so that the garbage does not fall to the ground, has no peculiar smell and noise. The traditional small and medium-sized garbage collection vehicle can also be used to dump and drop down, the feeding port can be opened automatically, and the feeding can be closed in time.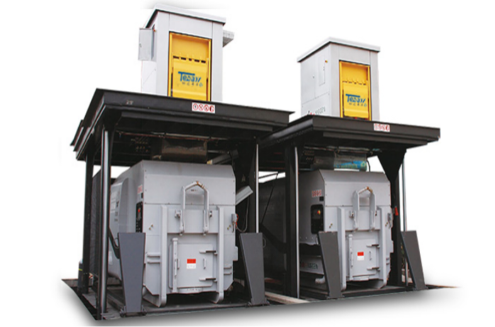 3、 Intelligent direct discharge mobile compressed dustbin
Intelligent direct discharge mobile compressed garbage can is a mobile compressed garbage station developed by our company according to the current situation of urban streets and some rural garbage treatment, which has the functions of domestic garbage collection, compression, transportation and dumping. It is mainly used for collection and transfer of municipal solid waste in cities, streets, schools and hospitals. It is especially suitable for villages and towns where land acquisition is difficult and the site is small. The equipment is suitable for continuous garbage disposal in cities and towns. Each city and town is equipped with one or more dustbins, and multiple dustbins share a matching hook arm car, which can effectively reduce the investment cost. The dustbin is used together with the hook arm car. The color and slogan of garbage can can be designed according to the needs of different places, with beautiful appearance and stable performance.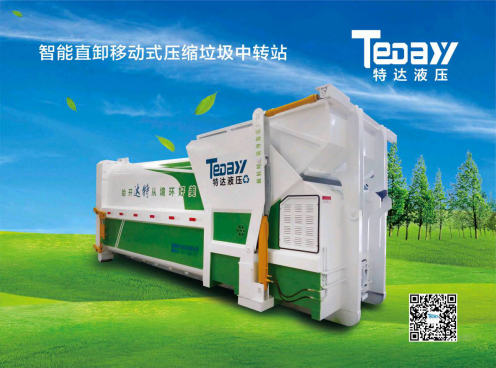 4、 Vertical compression refuse station
Vertical compression waste transfer station is a kind of transfer equipment used to collect bulk domestic waste and reduce the volume of bulk waste. It uses our company's strong hydraulic technology, independent research and development with the production of hydraulic system and hydraulic cylinder, in the inner membrane compression bin through vertical compression hydraulic cylinder for high density compression of garbage, remove the air and water in bulk garbage, and pre press the garbage into blocks. When the first piece of garbage is pressed, the compression device moves to one end of the compression bin of the garbage can, and the unloading push shovel pushes the pressed garbage into the storage bin in front of the compression bin for storage. Compress the second piece of garbage. Then, the box is lifted, and the two pieces of pre pressed waste are pushed into the transfer vehicle and sent to the landfill or incineration plant for terminal treatment. The dustbin can be lifted up and down with the help of hydraulic cylinder. In the process of collecting and compressing garbage, the garbage box is in the pit, which is convenient for sanitation workers to clean and dump garbage. When transferring the lump garbage, the box leaves the ground and butts with the transfer vehicle.
5、 TEDA tdsl-01 road sweeper
TEDA tdsl-01 sweeper is a small sweeper with special chassis and integral structure. The technical performance of the sweeper is superior to that of similar products, with beautiful appearance and flexible operation. The sweeper is powered by a diesel engine, and all operations are completed by hydraulic transmission.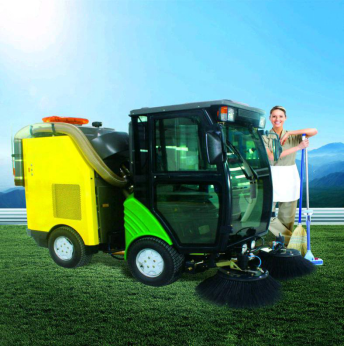 6、 Mobile garbage collection box
The mobile hook arm garbage collection box is also known as the detachable garbage truck. This product is mainly used in various occasions such as sanitation municipal, urban living quarters, rural areas and so on. It can be refitted into special dustbin according to user's requirements. It is composed of box and wheel. The garbage compartment can be lifted up and down by itself, and the garbage can be dumped by itself.
7、 High pressure micro mist dedusting and deodorizing machine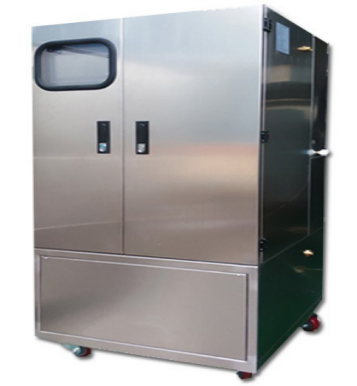 The main engine of the equipment adopts imported high-pressure plunger pump, and the plunger in the pump is made of ceramic material, with strong wear resistance and corrosion resistance. It can produce 20-70kg / cm2 high-pressure water column, and has its own regulating device, which can adapt to the pressure regulation between 2-8L / min flow. It can be divided into manual and automatic modes according to the demand. It can realize the intermittent operation of time and frequency, 24-hour automatic control, and the working time and intermittent time can be set freely, which can be accurate to seconds. It can cut off the power automatically in case of water shortage, which can effectively protect the pump.
Product features:
Good deodorization effect
Low power consumption, simple and convenient maintenance
Low noise of equipment operation
Continuous operation, stable and reliable, strong durability
Manual / automatic control system
8、 Hydraulic cylinder
Since its establishment, the company has long maintained close cooperation with domestic famous heavy truck factories, major steel factories and mining machinery factories, and its products include: environmental sanitation special oil cylinder, metallurgical oil cylinder, engineering oil cylinder, vehicle oil cylinder and other high-pressure oil cylinder series products. The cylinder diameter of the product is mostly Φ 25 - Φ 500mm, the stroke can reach Φ 8000mm, and the maximum working pressure of the oil cylinder can reach 43mp. Imported steel pipes with high strength and high precision, imported seals of international famous brands, new guide ring structure and advanced sliding materials make the lifting of oil cylinder more stable and have longer service life.
The R & D, production and application of these products further reflect the strong product development strength and advanced hydraulic technology of TEDA hydraulic. As a manufacturing enterprise with a sense of social responsibility, I believe that in the future, there will be more new products with more advanced technology and more complete functions.